FC Barcelona are back to training at Ciutat Esportiva Joan Gamper after a dramatic finish to the game against Sevilla which ended 3 - 2 for FC Barcelona. Thanks to Alexis sanchez's injury time goal. Three points fell into FC Barcelona's account. This match was no different from any other as Lionel Messi came to the score sheet once again but the story narrative was quite remarkably different. Very Different in fact.
Even though Neymar was unable to find his first La Liga goal. He Completely stood out proud in terms of performance. He was constantly giving trouble to Sevilla's right back Coke. One Incident particularly stood out as Neymar left coke tackling thin air by his hollywood cameo. which broke the Camp nou's crowd. here is the gif of cruyff style bend of Neymar.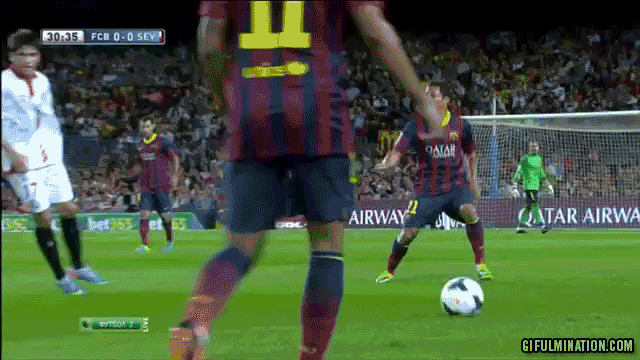 He was consistently troubling Sevilla's goal keeper Beto making him sweat two or three times by his curling shots. Neymar had five shots on goal but was unable to put them in the back of the net but Neymar's quest was finally achieved as he set up Messi to score Fc Barcelona's second goal in the 75th minute. Many would argue that Neymar should have been selfish at many occasions but he did help his team to rap up the second goal.
Sevilla couldn't handle Neymar. His dancing feet and brisk running caused the Andalusians in particularly coke many problems from time to time which resulted in Neymar receiving fouls.
While we sit and worry the defensive foe's of FC Barcelona. There is a solace of partnership being born with Lionel Messi and Neymar. While Alexis won the match and the headlines with messi being involved in it. with FC Barcelona's defensive crack Neymar and Messi should build flashes of brilliance. Unlike Sevilla and Valencia other teams may not be as forgiving. It is clear that all the criticizing of Messi-Neymar partnership will soon come to an end.