Barcelona's 1-0 win over Espanyol wasn't pretty, but in a league competition, you take what you can get. With Lionel Messi still not 100% fit, the Blaugrana must rely on others to carry the day.
As has been the case often this season, three players who at the end of last season were being amply criticized came to Barcelona's rescue.
First, Victor Valdes, the goalkeeper who came under fire for a bad start of the previous season, made a crucial intervention. Left exposed by his defense, Valdes was forced into a one-on-one stop on former Barcelona youth player Victor Sanchez.
It wasn't long ago that many Barcelona fans wanted the man gone. Just an example:
Victor Valdes decides 2 stay at Barca BAD news 4 the fans.Nobody wants him. Barca need a new keeper and 2 good centre backs.

— John Burridge (@TheBudgieTweets) May 31, 2013
This season, Valdes has been back to his best. He's saved a couple of penalties. In the Supercup, his close-range reflex save on Atletico Madrid's Arda Turan probably won the cup. And in the Clasico, he made a few key interventions - including a 1v1 against Cristiano Ronaldo - to keep Barca ahead.
He's kept 10 clean sheets this season and according to respected Spanish numbers man Alexis Martín-Tamayo, commonly known as "Mister Chip", Valdes leads La Liga with an 84% save percentage.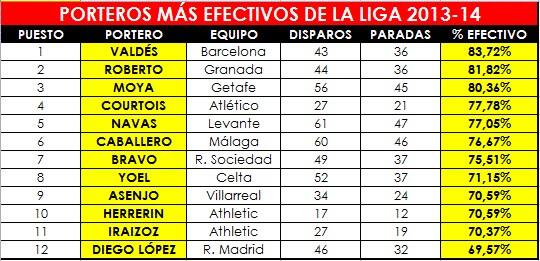 As the match wore on, it became obvious Barcelona would only win with a moment of individual brilliance. The team was tired after a congested few weeks. And that moment of brilliance was supplied yet again by Barca's newest Brazilian wizard.
Reciveing the ball from the left edge of the box, Neymar cut inside and drilled a low cross that rolled between the legs of not one, but two Espanyol defenders before being turned into goal.
It wasn't long ago that many doubted Neymar's ability. A sensation in Brazil, he had not yet proven himself week-in, week-out to the average European soccer fan.
Quick to judge, many questioned his talent from watching just one performance which just happened to be below his standard. Even Joey Barton, a professional footballer, publicly criticized him:
Neymar is the Justin Bieber of football. Brilliant on the old You Tube. Cat piss in reality...

— Joseph Barton (@Joey7Barton) March 25, 2013
Since arriving at Barcelona, Neymar has been adding to his YouTube resume. A key equalizer against Atletico Madrid (the only one Barcelona scored in the Supercup) showed he was decisive. He played a key pass in Barca's only goal in a win against Celtic in the CL. And he opened the scoring in El Clasico vs. Real Madrid.
But who was there to put the ball in the net against Espanyol?
None other than Alexis Sanchez, the forward who came under heavy fire last season for a dry run in front of goal. During that time, it was not uncommon to see people saying things like this:
Alexis does what he does best...miss the goal for the umpteenth time #fcblive

— Adi-Oula Sebastian (@JubeiKibagame) August 21, 2013
But Alexis has been in decisive form lately. It wasn't just that he was in the right place at the right time to score the only goal yesterday. He's second on the team, behind only Messi, with eight goals.
Against Sevilla, Alexis scored a winner with the last kick of the game. And in El Clasico, Alexis's brilliantly-taken golazo was what separated the sides.
First, he out-sped Raphael Varane to collect a through ball from Neymar. Then, he put on the breaks, shifted the ball onto his right, and delivered a looping rainbow from outside the box, over 6'5" Diego Lopez, and into the back of the net.
The doubts at the beginning of the season are slowly being eradicated. And while Valdes in all likelihood will not continue at Barcelona because he wants to play in another country, Neymar, 21, and Alexis, 24, are just getting started.
If Barca's defense keeps improving and protects Valdes, and if Messi regains his best form to form a powerful South American trident with Alexis and Neymar, Barcelona could be incredibly difficult to beat in any competition.