Tito Vilanova and Jordi Roura are burning the midnight oil looking to provide FC Barcelona with the perfect strategy to achieve a massive comeback against AC Milan.
The Italians come in with a 2-0 lead, and with an opportunity to score an away goal, Barca could easily see themselves needing to find the net several times. If Milan score only once, Barca will have to score four.
There are three key choices that the coaching staff need to make that will help them attempt this difficult feat.
Formation
There are really only two options: 4-3-3 or 3-4-3. With the 4-3-3, Barca will still have three forwards and plenty of chances to score, but a 3-4-3 gives maximum attacking options with an extra offensive midfielder instead of a fullback, However, the 3-4-3 carries more risk of conceding.
The 4-3-3 would have Lionel Messi as its focal point, with Pedro Rodriguez on the right and either Alexis Sanchez or David VIlla on the left. Meanwhile, the 3-4-3 would have Messi at the tip of the midfield diamond, with a striker (either Villa or Cesc Fabregas) ahead of him.
The 3-4-3 could potentially liberate Messi and give him a chance to pull the strings with his sharp passing, but Milan's counter attack could leave Barca's three-man line exposed. Here is a side by side of a possible 4-3-3 and a possible 3-4-3: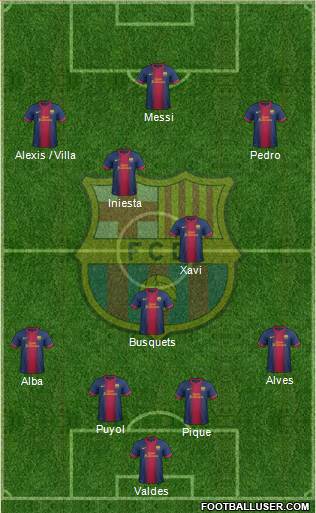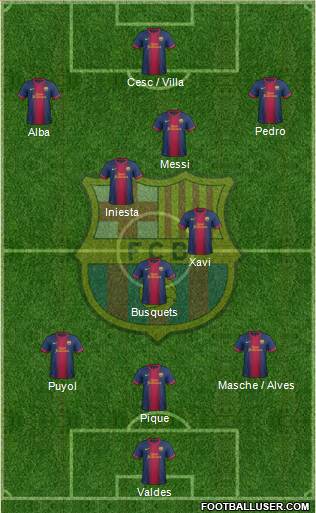 Selection
Once the formation has been decided, the players that make up the XI will be chosen. Is Xavi fit enough to start, or will Thiago Alcantara or even Alex Song take the field?
With Dani Alves seemingly back to form, is there any place for Adriano Correia? Does Javier Mascherano deserve a spot in a three-man line? And is Cesc Fabregas in too poor form to start?
Upfront, did Alexis Sanchez book his ticket with his first goal-plus-assist performance of the season? Will David Villa's poor finishing in the last match affect his chances of starting? Does Cristian Tello deserve a spot?
There are many questions, and not too many answers yet.
Strategy
How quickly does Roura hit the panic button? Will Barca show off the famous Catalan / Spanish patience and pass, pass, pass, and pass until an opening is apparent, or will Roura and Vilanova instruct the Blaugrana to be direct from the get-go?
As always there's the risk of conceding the goal that makes the task that much harder. Barca finally held a clean sheet in the last match, but it was an anomaly this season.
But if the team does not score, keeping the clean sheet is pointless. In fact, some would argue that Barca should go in with the objective to score at least four, knowing Milan will get at least one.
Can Barca even pull off a substantially more direct style effectively? We'll have to see.
Conclusion
The coaching staff will be thinking about this one until the team sheets are filled out, and the prematch training may tip a few decisions. It's clear Barca have a monumental task ahead of them, and they will need the coaches to make the right calls in order to pull it off.