Jordi Roura was not a popular man among the FC Barcelona support, with two Clasico defeats and one bad first leg against AC Milan under his belt. This was not a job Roura had asked for, but now he was being thrown in the fire as some even went so far as to question whether Barcelona's "dynasty" was on its way out.
The former scout had signed up to be Tito Vilanova's second-in-command as Vilanova himself was promoted from assistant to head coach at the end of last season. But Vilanova unfortunately has spent a long time in New York fighting cancer, altering the plan. Vilanova provides advice from the United States, but it's clear Roura is the boss on the pitch.
It's hard to tell how much Barca's successful plan was due to one or the other, so we'll just say they both deserve credit. With such a successful gameplan, there's enough praise to go around.
David Villa, Striker
The first interesting tactical decision the pair made was to start David Villa as the central striker. Before the match, I wondered whether it might be the way to go. We can now safely say that it was a resounding success, and not just because he scored the decisive third goal, but also because he acted as a shield for Lionel Messi.
With Villa's goalscoring instinct to worry about, the Milan centerbacks could not always triple-team Messi before he even got the ball. I say this though Messi scored the first surrounded by five white shirts, because the Argentine superstar received the ball with half a yard's worth of space. It really was enough of a head start for him to stick the ball in the top corner. In the first leg, he would have had Philippe Mexes's ponytail in his face before he even got the ball.
Villa and Messi were both broadly central, but interestingly, they both liked moving to the right to receive the ball. Villa's goal even came from a right-wing position. Whether by design or by chance, Villa, Messi, and Alves overloaded the inside-right of Milan's defense, were Mexes and especially Kevin Constant were overwhelmed.
The Flexible 3-4-3
I was anxious to see whether Roura and Vilanova would go with the three-man line (with Villa as the central striker, three at the back is almost a given.) Few other managers would go with three at the back, but even fewer would have picked Gerard Pique, Javier Mascherano, and Jordi Alba as the starting defenders. Mascherano has not been in great form as of late and Jordi Alba - let us not forget - was making about half his starts as an attacking winger last season.
However, aside from a blip from Mascherano that ended in M'Baye Niang hitting the post, the back three were basically perfect. Dani Alves played as a right-wing forward, but without the ball he dropped into the defense to expand it into a back four. At the start, the team looked a bit like this: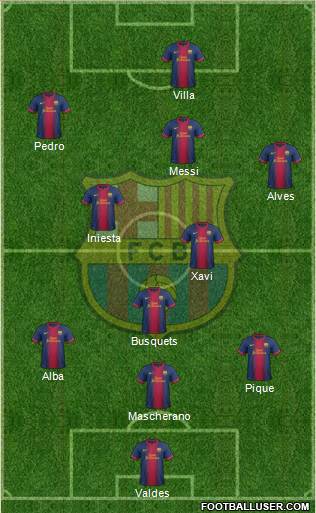 Rearranging the Deck
Roura had received criticism for not making changes early enough before, but he cannot be accused of that this time. Gradually, he shifted the team into a more defensive setup after Villa put the Blaugrana ahead in the tie.
First, he took off Villa and introduced Alexis Sanchez. Villa had done his job tactically, and with Barca not needing any more goals, it was mission accomplished. Alexis was on for fresh legs and energy to press. It didn't hurt that he gave a brilliant assist, either.
Carles Puyol replaced Mascherano due to the Argentine suffering a cramp. This was not by design; Masche had erred, but his aggressive ball recovery also led to a goal.
Finally, Adriano came on for Pedro. Adriano is a good enough defender that he's started as a CB this season, and as a winger, he tracked Ignazio Abate tightly just as the Italian started to seem like a threat.
Dani Alves went to a full-time right back, which gave Jordi Alba license to motor forward down the left, just as he did as he scored the insurance goal to make it 4-0.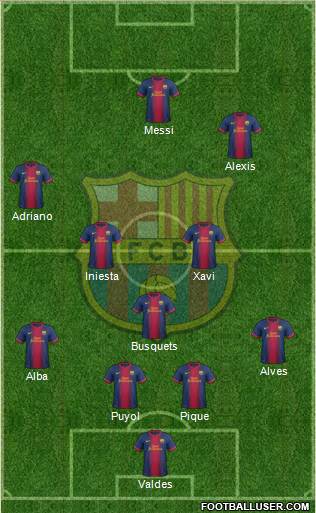 The substitutions were timed well and helped the team secure the victory.
Vilanova's Return
Roura seemed to never get the better of anyone tactics-wise before, but he certainly got it right this time. Roura was untested as a manager at the top level before being thrust into the role, and it's clear he wanted to merely keep the ship steady while Tito recovered.
However, it's become apparent Barca have to evolve at times. Pep Guardiola knew this, though perhaps he took it too far last season, were his tinkering proved costly in some matches. This time, the coaching staff got it just right.
With Vilanova back soon, can it only get better?