The "FIFA virus" struck again as Jordi Alba injured himself playing for Spain. He carried on with the injury as Vicente del Bosque had used all three subs against Finland, and now, Alba's back in Barcelona and out for important upcoming matches.
Carles Puyol, with his advancing age, has spent lots of time in the treatment room as well, and he's unavailable now for a good amount of time. The always injury-prone Adriano is out as well after picking up a knock in the previous league match.
Eric Abidal has had a long layoff as he fought cancer, and despite getting the medical green light, is probably far from reaching peak fitness levels required to play in a top-level match.
Marc Muniesa is coming back from a tough injury that had made him miss most of the season, and coupled with his lack of experience, is not in the first-team plans at all. To add injury to injury, Barca B's Carles Planas is out as well, having hurt himself in an U-21 international match.
The team was still considering what to do with one of its top central defenders out, as Marc Bartra was slated to get more playing time. But now, the first, second, third, and fourth choices at left-back are all out and the worries have shifted.
Martin Montoya, naturally the third or fourth choice right-back, is the fifth choice left-back and all eyes are on the first-year player. Young but incredibly promising, Montoya has held his own in the big matches. He was composed in his time against Real Madrid and almost scored a game winner in El Clasico, only to hit the bar late in the game.
Questions again will return as to why the staff did not buy a top centerback over the summer, with Abidal out for a long spell and Puyol's body slowing from years of wear. In fairness, Barca did buy Alba to help the left-back situation.
However, having not purchased anyone, the question then shifts to why the team has not given Bartra and Montoya more opportunities. Now, they might be made to start a Champions League quarterfinal away from home with relatively little big-game experience.
The most relevant question in any case is: what to do now?
Barca have two key compromises on the horizon: one in the league against Celta de Vigo and the meeting with PSG. The team will have to account for the jet-lagged players (Javier Mascherano, Lionel Messi, and Alexis Sanchez will be making long trips home) and the need to rotate in addition to the injury issues.
Solutions?
Assuming no further setbacks, Tito Vilanova and Jordi Roura will have five first-team defenders available: Gerard Pique, Mascherano, Dani Alves, Bartra, and Montoya. Alex Song, Sergio Busquets, and Jonathan Dos Santos can be adapted from midfield, while Muniesa is the most likely to offer help from the B team.
The coaches can avoid the issue partially by playing three at the back, not four. But is that too risky away against a team with offensive firepower like PSG?
Perhaps, but it's worth a shot at home to lowly Celta. With the need to rotate and the players returning from international duty, we might see the team line up like this: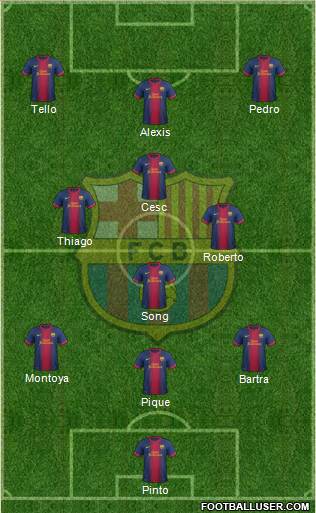 Risky in its own way? Sure, but desperate times call for desperate measures. Will Roura field this team? Somehow, I doubt it. The management has called for double duty among its first-team regulars rather than rely on the unproven likes of Sergi Roberto and Cristian Tello too much.
That is arguably what got them in this mess in the first place, so perhaps they have adjusted their plans. And with a healthy, double-digit points lead in La Liga, Barca can afford the odd slip-up in exchange for long term gain.
Meanwhile, against PSG, we may see this: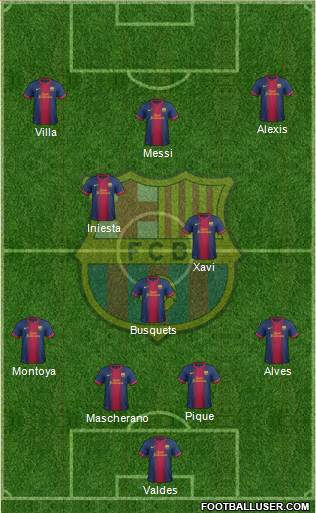 This lineup would be not too different from the XI that beat AC Milan 4-0, with the exception of Montoya for Alba (forced due to injury) and Alexis Sanchez for Pedro (which is an option that could go either way.)
They could start in the 4-3-3 and easily shift into 3-4-3, just as they did in the Camp Nou against the Italians.
Thinking Outside the Box
As we established, a team may have to get creative if faced with an injury crisis. Vilanova certainly did, playing the offensive left-back Adriano in central defense (against Real Madrid, no less). The decision was brave, the result: mostly positive.
Those bits of invention can save the day. Playing Montoya as part of a back three is probably in itself unconventional, and I've already recommended it.
Here are just a few possibilities that may be crazy enough to work:
-Alex Song at left-back: He's fast and tall, not afraid to tackle, but almost never played wide before
-Alexis Sanchez at left-back: Alexis has been praised for his defensive work on the flank, yet criticized for poor finishing. Why not maximize his strengths?
-A back three with Dani Alves on the right and Mascherano on the left: If Alba can play in the back three, so can Alves.
-In the Celta game, Jonathan at right-back and/or Muniesa in central defense: because if they were ever going to play a game this might as well be it.
---
---