Barcelona did not have a good two weeks in what was identified as a potentially season-defining stretch. The team had lost three times this season so far, and three times they lost in those two weeks. Those included the first loss at the Camp Nou and two losses by two goals (previously, Barca had only lost by one.)
Even the wins in that stretch were of dubious quality - both times, Barca trailed and had to be rescued by Lionel Messi.
But that's in the past now. What's in front is a chance to continue to set the pace in the league and then, possibly, look to an unlikely comeback in the Champions League.
Deportivo La Coruña are no one's idea of a dominant side. They're dead last in the league, having managed only three wins. Their goal is to stay in Primera after being promoted from Segunda last year, but time is running out.
Even if Depor manage to beat Barca at the Camp Nou, they'd still be last, no matter what. They are eight points from safety, which doesn't seem like too much until you realize that's about half their season's haul so far.
History
It's too bad, because Depor are, for one, not actually that bad, and two, an important franchise in Spanish football. The "Super Depor" of the early 2000s were a side to be reckoned with at the European level, and traditionally fought Barca, Real Madrid, and Valencia for silverware.
In the 1999-2000 season, they claimed La Liga, finishing five points ahead of Barca, and were runners-up five other times. In 2002, Depor beat the "Galactico" Real Madrid 2-1 at the Santiago Bernabeu to win the Copa del Rey - on Real Madrid's 100th birthday, no less!
In the 2003-2004 Champions League, Deportivo eliminated Juventus 2-0, and came back from a 4-1 deficit to win the second leg 4-0 against AC Milan (Barca, take note.)
In the CL semis, they were drawn against FC Porto. The first leg ended 0-0, and in the second leg, Porto were given a penalty that proved to be the difference as the Portuguese team, led by Jose Mourinho, won the match 1-0.
Depor's Jorge Andrade was sent off for lightly tapping his ex-teammate Deco with his foot, which Andrade later said was a friendly gesture. Walter Pandiani also complained that his shorts were pulled down in the box, though no penalty was given.
How different things would have been if Depor had played a Champions League final. Regardless, the team started to drop from challenging for La Liga to being staunchly midtable. The Galicians quite simply did not have the financial fortitude to replenish the gems it once had, and the once-exciting Super Depor became a stale team.
In 2010-11 they were relegated on the last matchday, but in 2011-12 they topped Segunda and returned. This year, they've been bottom-feeders all season.
Form
Depor snapped a six-game losing streak with a draw at home to Rayo Vallecano. That, coupled with the fact that the Galicians actually led Real Madrid for the majority of the game in the previous match before succumbing 2-1, should give manager Fernando Vazquez some hope.
Vazquez is Deportivo's third manager this season alone, and so far the team has gotten at least a temporary boost. Depor have the players to give any team a fight - aside from giving Madrid a scare, Deportivo refused to go away in their 4-5 loss to Barcelona. Despite being 0-3 down, Depor somehow kept coming back to cause trouble. Barca held on, but their nerves were tested.
Still, the reality is that Depor have three wins all year, and none away from home.
Key Players
With seven goals (second on the team) and five assists (first), Pizzi is the man to watch. On loan from Atletico de Madrid, the Portuguese winger is a known threat to the Blaugrana defense. In their 4-5 loss against Barcelona, Pizzi scored a brace, including a superb free kick.
Pizzi is a set piece specialist who also likes to shoot in the open field, but at the same time, he's Depor's primary playmaker, setting up others via crosses or through-balls.
Riki is another dangerous player, having scored 10 goals in the league - first on the team and tied for ninth in the league. The former Real Madrid product is all about trying to score - he'll be offside often, miss shots, or lose possession, but eventually and with good regularity he'll get on the score sheet.
Riki and Pizzi have combined for about 59% of Deportivo's goals this season.
It's hard not to talk about 37 year old Juan Carlos Valeron, who was a key piece of the "Super Depor" days. Clearly, his best days, when he was an important component of the Spanish national team, are behind him, but he's still a very clever player. Possessing excellent vision, the playmaker has chipped in with four assists this term.
Strategy
Vazquez has a tough test ahead of him. "Taking the ball away from Barcelona is impossible," the manager said. Instead, he thinks there are two ways of playing Barca, pressing high up the pitch, or sitting very deeply.
Without tipping his hand either way, Vazquez said playing higher up the pitch was the "riskier" option, but at the same time said he was looking to win, not merely draw.
"Until it's mathematically impossible, we have to believe it is possible," Vazquez finalized.
The Galicians are likely to line up in the 4-2-3-1 yet again. But which route will they choose, high pressure or the proverbial "parked bus"?
What's sure is that Vazquez will demand that his players chase and press the opponents at every opportunity. He told the press that he wanted his players "to come back to the dressing room completely depleted."
In any case, Vazquez said he's not happy to be meeting Barca when they are in poor form. He'd rather catch them off-guard, he said, than alert and ready to turn the bad results.
Lineup
Daniel Aranzubia should start between the sticks. He's not been a star this season, but he's been good enough to remain on the job. German Lux, a former River Plate and Argentina keeper, has been pretty good when called into action, though.
In the center of defense, there are question marks. Carlos Marchena, a Euro and World Cup winner for Spain, is suspended. Kaka (no, not that one) and Ze Castro are injured. Aythami Artiles is therefore sure to start. But who else will play?
One option is to drop a defensive midfielder, such as Alex Bergantiños or Paulo Assunção, into the role. The other option is to give young Pablo Insua his second start of the season. Insua impressed in pre-season but he's not been called upon much during the regular season.
At the fullback spots, Vazquez has more choices. Silvio Manuel Pereira arrived on loan from Atletico Madrid and should be ready to go at right-back. Ayoze Diaz or Evaldo (yet another Brazilian fullback) should take over the left-back spot. Hypothetically, Laure Sanabria or another Super Depor veteran, Manuel Pablo, could play right-back, but that's less likely.
Assuming neither Bergantiños nor Assunção play in defense, they are options in the center of midfield. Abel Aguilar is the team's best tempo-setting passer, and could replace the more combative Bergantiños. Still, with Vazquez ready to concede possession, Aguilar may stay on the bench. Juan Dominguez is a possibility.
The left wing spot is Pizzi's, simple as that. In the attacking mid, Valeron is the usual starter, but again, thinking in terms of strategy. is it more useful to put the younger Aguilar in this spot? The right-wing should be for Bruno Gama - after all, he's started all 26 league games so far. Javier Camuñas is a bench option.
The striker position is usually reserved for Riki, who has started every match in the league so far as well, except he is hurt. Nelson Oliveira, on loan from SL Benfica, is the man tasked to take his place. The talented youngster has not made a start so far, but he's been subbed in 20 games in the league already.
Oliveira is considered part of the future of Portuguese football, and while he may not be at Riki's level yet, he does present a certain danger. The Spanish-Equatoguinean Rodolfo Bodipo should be the bench option, although perhaps Camuñas could deputize.
Conclusion
Super Depor this is not, but it'd be a mistake to completely write this team off. Certainly, if you can't count them out 3-0 down to Barca, when can you?
At the same time, it's clear Depor are last for a reason. Barca should be looking to rotate and build confidence en route to emulate Super Depor with a great Champions League comeback against Milan.
Possible XI (4-2-3-1): Aranzubia; Evaldo, Aythami, Insua, Silvio; Bergantiños, Assunção; Pizzi, Aguilar, Gama; Oliveira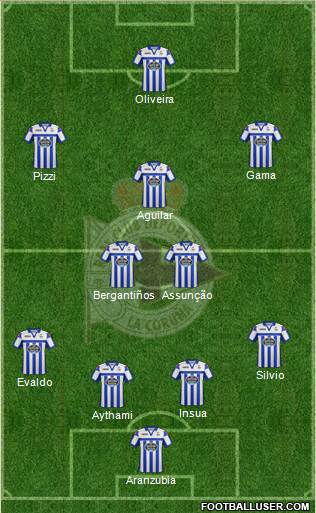 ---
---