Lionel Messi was all smiles in training today despite the fact that he's still recovering from a muscular injury. Early diagnoses suggested Messi would miss this game, and perhaps be out for a few more. But instead, all signs point that he will play a part in FC Barcelona's meeting with Paris Saint-Germain.
Also included in the match squad are Adriano Correia and Pedro Rodriguez, both unavailable in the first leg, which ended 2-2. Besides the lingering effects of any injuries, the absentees are Javier Mascherano and Carles Puyol, both out with long-term injuries.
Leaving aside the fitness concerns in defense, Vilanova will have choices to make in the front three. Messi would probably be less than 100% and is a risk to re-injure himself, so is there any sense in starting him? True, it's a do-or-die match, but on the other hand, does anyone fancy Barca winning the trophy with Messi out long-term? Clearly the best outcome is to progress with Messi continuing his recovery.
This means that Cesc Fabregas will have a starring role once again, which is a mixed situation. On the one hand, he's undeniably talent and has put up some very impressive stats in the campaign once again. On the other, he's had some really bad games and at times looked a bit lost.
David Villa is virtually a lock on the left wing, but who will line up on the right? Alexis Sanchez put in his best performance of the season against Mallorca, getting two goals and two assists, but he's also been troubled all along by poor finishing.
Pedro has been clutch for his national team, but he's been a bit off for Barcelona. Could he be in line to start on the right? Or will Cristian Tello get a look, considering his good goalscoring record and despite his sometimes questionable decision-making?
Mascherano and Puyol are two of the teams' top three center-backs, which means it's difficult to know who will partner Gerard Pique in the center of defense. In a poll with 163 votes, BarcaBlaugranes.com readers thought the best option was youngster Marc Bartra (with just slightly over 50% of the vote) but opinions differ.
Ex-Barca defender Rafa Marquez said the best option would be to move Sergio Busquets to defense while Arron said he preferred playing Adriano there. Barcelona paper Mundo Deportivo said the likely starter will be Adriano, or possibly Alex Song.
There are a few interesting tactical surprises that could be sprung. The first is a 3-5-2, which some have suggested as a way of both mitigating the lack of center-backs and capitalizing on the fact that Barca need score not a single goal to progress.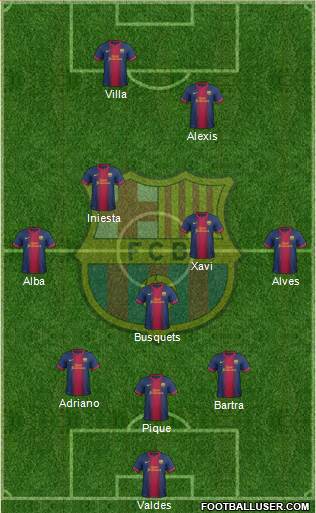 The main tactical problem is a lack of offensive width, primarily because the team is just not built with that type of formation in mind. The main practical problem is this Barca have rarely (probably never) lined up in anything like that kind of formation. It would be a big risk to try it against PSG without a rehearsal.
Then there's the oft-discussed but hardly-ever-used double pivot. Song could be deployed in a partnership with Busquets to add speed, strength, and height to the Barca defense. Again, the objective is to protect the shaky backline, already suspect without the added injuries.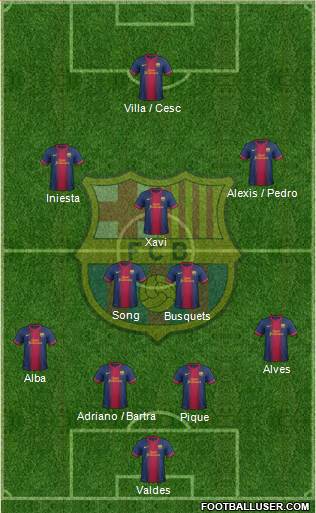 Barca have not used the double pivot often, but it's not quite as radical a change as a 3-5-2. The main difference between a 4-3-3 and a 4-2-3-1 is that an attacking midfielder is swapped for a defensive one, while the wingers would be a bit more conservative.
The main problem is that accommodating Song in the middle of the park means sticking Iniesta on the left and leaving only one place for Cesc or Villa.
Both alternate formations, while interesting, are probably too risky. With an advantage in the tie, Barca will probably play it safe tactics-wise. Expect a good old fashioned 4-3-3 - the only enigmas may be who plays in central defense, who starts on the right wing, and how much Messi will play.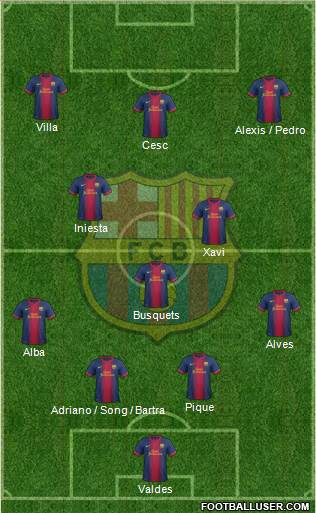 For more coverage of tonight's UEFA Champions League clash, be sure to check out our Barcelona vs PSG Storystream
---
---