Bayern Munich continue smashing all comers, as they cruised to a 6-1 thrashing of Hannover 96 as they confirmed their early Bundesliga title. The Bavarians have broken the record for most points in a single Bundesliga season and are far ahead of Borussia Dortmund, second place but also in the CL semifinals.
Meanwhile, Barcelona had to work for their 1-0 triumph over Levante which kept them on course to the La Liga title. Cesc Fabregas's late winner gave the Blaugrana a victory that keeps their double digit lead intact over second-place Real Madrid, who themselves face Dortmund in the semis.
The UEFA coefficients calculate that Barca and Bayern are the two top teams over the past 5 years. In that span, Bayern have gotten to the final twice, only to lose both times, while Barca have lifted the trophy twice.
Outside the pitch, the story of Pep Guardiola looms. Guardiola led Barcelona to both of those titles, but has taken this season off. At the halfway point of his break, Guardiola announced he would be managing Bayern next season.
An interesting subplot, to be sure, but on the pitch the most interesting fact is that Barca and Bayern are the #1 and #2 teams in terms of average possession this season throughout Europe.
Barcelona's average possession in the tournament is 68%; they have had more possession than their opponents for a staggering 301 consecutive games in all competitions. Bayern's average share is 57%, a great number to be sure, but still some distance behind. And while Bayern usually boss possession, their run of consecutive games doing so is much smaller.
In all likelihood, Barcelona will have more possession than their opponents. In some measure, this could unsettle the Germans as they are not used to seeing less of the ball.
A team that successfully did just that was Arsenal in the first knockout round, winning the possession battle 58% to 42%. Unfortunately for the Gunners, Bayern still won 3-1 in London.
However, in the return leg, Arsenal won 2-0 - only the third loss of the season for Bayern. In this match, the Gunners kept only 45% possession compared to Bayern's 55%.
Does this mean that Barca should surrender possession? Probably not. Sure, it worked for Arsenal but it's hardly worked for nearly every other team. If Barcelona can retain possession, which is their natural game, it could still catch Bayern off-guard.
The key in the match may not be possession, which could fall into a predictable pattern of Barca owning the ball. Instead, it might be pressing. At the Emirates, Bayern pressed Arsenal's defense into mistakes which resulted in goals. Against Juventus in Germany, Bayern again outpressed the opposition. Juve were battered and lost the match 2-0.
For their own part, Juve did unsettle Bayern in the return leg with some early pressing. However, the Bavarians withstood the tide and calmed the tempo. The Italians tired and ultimately lost 2-0 again.
When Real Madrid have relentlessly pressed Barcelona in their own half, it's been trouble for the Catalans as they have been unable to start moves from the back. However, when Barcelona have themselves pressed to their best level, they have been extremely dangerous.
The high point from that perspective this season was the home leg against AC Milan. The Rossoneri could barely escape their own box before red-and-blue shirts descended. The result was a 4-0 domination.
With that in mind, it's likely Tito Vilanova will select Pedro Rodriguez and Alexis Sanchez on the wings to provide two high-energy players to limit Bayern's fullbacks, David Alaba and Philipp Lahm. In defense, Carles Puyol and Javier Mascherano are injured, while Adriano Correia is suspended. Youngster Marc Bartra in all likelihood will start. Sergio Busquets and Lionel Messi were injured, but both should be ready for the Bayern clash.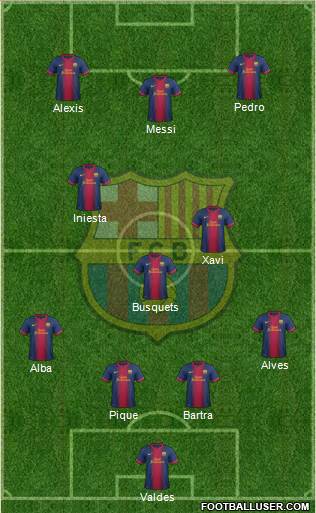 For Bayern's part, Holger Badstuber remains on the long-term injury list. Mario Mandzukic is suspended, while Toni Kroos will miss due to injury. Bastian Schweinsteiger was rested for the trip to Hannover, but he should be ready to go.
Mario Gomez should replace his namesake Mandzukic at the striker position. Gomez scored an outstanding 41 goals last season, though he's been criticized for missing in big games. Daniel van Buyten and Dante will start in defense. Toni Kroos will in all likelihood be replaced by Thomas Muller - again, outstanding replacements.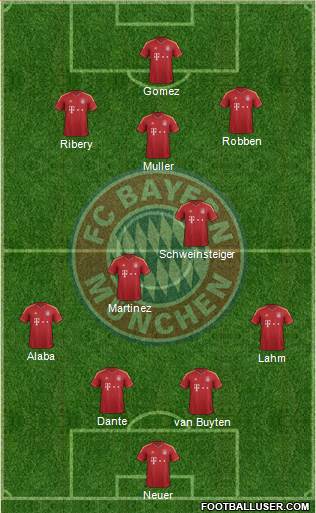 Bayern are in amazing form, having won their past three matches by a combined 16-2, all the more amazing given that they have good reason to feel complacent. Barcelona, for their part, may be going in underestimated for the first time in several years.
While the possession battle may be the biggest draw, it will be the pressing battle that could determine the winner.