Some people wondered whether Bayern Munich would be able to outpass Barcelona in the Champions League semifinal. In fact, it was nothing of the sort. Barca still dominated possession.
So why did they lose so convincingly?
You might think that "parking the bus" (defending extremely deeply) is the most effective way to beat Barcelona, but recent results suggest it's really not. Sure, you'll get blips such as semifinals won by Chelsea and Inter Milan over the past few seasons.
But it's worth noting that Inter actually lost the match they defended deeply, and Chelsea would have as well, were it not for scoring a last-gasp equalizer when Barcelona had essentially abandoned defense in a desperate search for a final goal.
Bayern just did what has proven to be the best strategy against Barcelona - a highly effective press that starts high up the pitch, that then settles into a solid bank if breached. Last week, I commented on that being the key strategy for Bayern, and they duly delivered during the match,
The best ball-playing defenders can pass out of trouble often, but against a stunningly good press, they will concede the ball once or twice - and that's all it takes. Barcelona can't really go for the long passes because they lack height. So what to do?
The solution may be to try to pass the ball quickly into the attack, attempting ambitious passes, dribbles, or shots before Bayern can fully settle. This is risky, as it opens Barca up for a counter-counter-attack, as Bayern recover possession themselves and drive forward themselves. But 4-0 down, don't you have to risk everything?
Well, the key question for the return leg is whether it's worth trying an extremely attacking strategy to try to revert an extremely difficult 4-0, thus opening the possibility for a humiliating defeat across two legs. Maybe it would be better to concentrate on what would give Barca a win in the match, regardless of the whether it would be enough to progress.
Three things seem key. One, Lionel Messi, Xavi, Sergio Busquets and anyone suffering any kind of niggling injury should be fit. Barcelona looked slow in the first leg, for a lot of reasons, but one of them was clearly a lack of fitness due to injury. In some respects it may be better to drop certain players if they're not 100%.
Two, Barcelona need some height, but at the same time they need to just... play better. Lack of height has been the case for many years, and they have endured it. Partly Bayern's two goals from corners were coincidence - sometimes they just "happen" - but also Barca did not defend them well at all, AND conceded many corners cheaply, giving Bayern plenty of attempts.
Three, Barcelona have to fight physicality with their own strength. Again, partially a problem of sheer size but then they were very rarely bullied previously. It's also a matter of match fitness and attitude.
With those things in mind, here are some possibilities.
All-out Attack: 3-4-3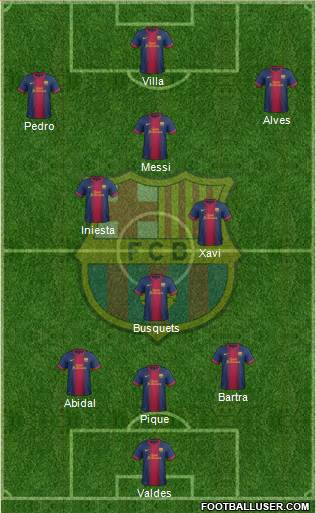 Barca played 3-4-3 when they achieved a great comeback against AC Milan by winning 4-0. Fielding a striker ahead of Messi, such as David Villa, can give the Argentine a bit more breathing room. Villa attracts attention by his sheer presence, meaning Messi will not have four or five players around him at all times.
The main problem with any three-man line is it will open up the defense, particularly the flanks. Bayern are deadly at the moment, but what other option is there?
Abidal, if fit, would be a boost. Putting him in this type of game might be unfair given he returned from a long struggle with cancer. At the same time, he's composed defender who reads the game well, and he's 6'1''. Again, height is not the solution in itself, but it can help. Fielding an extra player who is good in the air might help out in the set piece department - though it could hinder the ability to cover the flanks. Adriano could be used instead of either Abidal or Marc Bartra in that case.
Alexis Sanchez or Pedro Rodriguez remains a question, as one seems to always miss and the other seems to always disappear. Cristian Tello is an option, especially because of his directness, but he doesn't seem to be trusted in big matches.
Balance: 3-5-2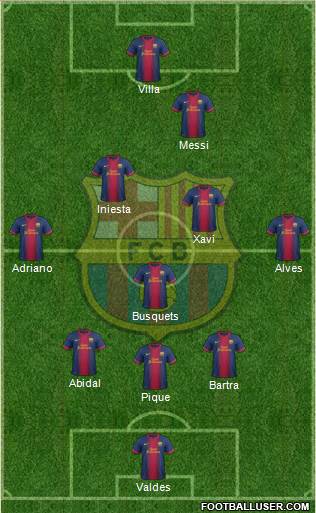 What would the advantage of the 3-5-2 be, compared to the 3-4-3? It would protect the flanks better. The disadvantage? It would be harder to create width on offense. Again, this goes back to the "win the match or win the tie" dilemma. There is also a compromise option, in fielding a fullback on one side and a winger on the other, and letting one concentrate on defending while the other primarily attacks; a tandem of Alves and Alexis, for example, could do this.
Strength: 4-2-3-1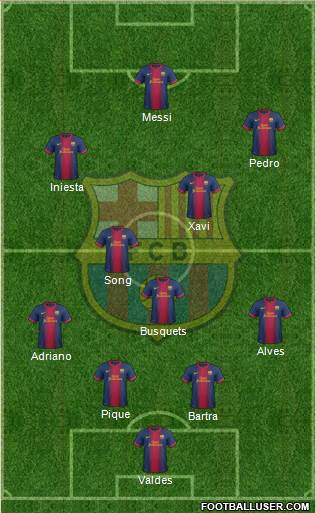 The 4-2-3-1 is the most popular football formation in the world. It's used by Bayern, Real Madrid, and Borussia Dortmund - the other three semifinalists. It's used by the German, Spanish, and Argentine national teams, the top three national teams in the world according ot the FIFA rankings.
So why not Barca? Well, they just were not built for this formation. The team's best players are built to attack the middle of the park, and the 4-2-3-1 necessitates at least one to be played wide to give the team the extra bite in midfield.
Here, the team is set up to emulate Spain closely. Alex Song was brought in as Seydou Keita's replacement, a player that can give the team added steel in midfield. He would battle with Javi Martinez (ironically the first choice to replace Keita before Bayern outbid Barca) in midfield and hopefully take the pressure off Xavi.
That's all well and good, but the biggest problem is this formation is not very offensive. It's built to win games a la Spain 1-0 or 2-0. Rarely do Spain win 4-0 - well, except for the Euro final.
Cesc Fabregas could be deployed instead of Song, bringing Xavi back. Fabregas is a more physical presence than Xavi, but he is not quite as defensive as Song. Yes, that sounds like a genius formation, truly the stuff of wonders... until you realize that's the Iniesta wide, Cesc in midfield lineup that has not worked at all recently.
Tried and True: 4-3-3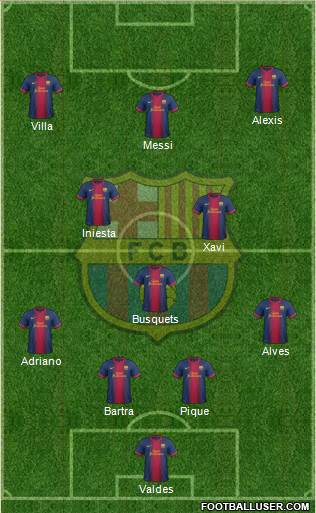 After all those weird and interesting options, the base 4-3-3 formation remains an option. It's the system the players are familiar with, the one the team was built for, and the one that's brought tons of success in the past.
But it's also the one that got beaten in the first leg. Confidence in the system is at an all-time low.
Using it, and winning, no matter the score, would send a defiant message that what happened in Germany was an aberration.
But sticking with that formation, and losing again, would make most people think that Tito Vilanova is stubborn and out of ideas. It's a risk either way.
That sums it up best, actually. Any change is a risk, as is not changing. It will be very interesting to see how the coaching staff responds.