Argentina are being labeled as favorites, but it's mainly for one reason - the attack. Not only is arguably the world's best player, Lionel Messi, leading the team, but Gonzalo Higuain, Sergio Aguero, and Angel Di Maria can also terrorize any defense. Any team which can comfortable leave Carlos Tevez - the 3rd top scorer in Serie A - off the plane has serious depth upfront. The problem? The team is top-heavy, lacking genuine stars in defense. Messi's Barcelona colleague, Javier Mascherano, is the closest thing, and he plays in defensive midfield for the Albiceleste.
With the team taking part in a pre-tournament training camp, coach Alejandro Sabella needs to cut three players for the final roster.
Goalkeepers
Sergio Romero (Monaco), Mariano Andujar (Catania), Agustin Orion (Boca Juniors)
Starters: This is the most controversial position. Sergio Romero will start, as he did in the 2010 World Cup and 2012 Copa America. So what's the problem? He's barely played this season, becoming a backup at French club Monaco. Meanwhile, Malaga's Willy Caballero has completed his second consecutive sparkling season, becoming one of Spain's top keepers.
Backups: ...Yet he's not even on the squad, with  Catania's Mariano Andujar and Boca Juniors' Agustin Orion as the backups. Romero has done a respectable job in the blue-and-white, but if he dares make a mistake, the howling for Caballero will be unstoppable. Andujar and Orion are decent,  but neither can be considered world-class.
Cut: No one
Defenders
Martín Demichelis (Manchester City), Pablo Zabaleta (Manchester City), Federico Fernández (Napoli),  Marcos Rojo (Sporting CP), Ezequiel Garay (Benfica), Nicolás Otamendi (Atlético Mineiro), Hugo Campagnaro (Internazionale), José María Basanta (Monterrey)
Starters: After much tinkering over the past few years by various coaches, Sabella has solidified the back four. This has helped Argentina's defense become not quite so brittle, though it's hardly full of stars. Pablo Zabaleta, who can play as a fullback on either flank, is the closest thing. He is likely to play on the right, and will naturally be used to pushing up. However, he may want to hang back as Argentina will need all the help they can get on defense. Marcos Rojo will probably remain as left-back, though he is a natural center-back, providing balance. He has height, but lacks speed for the position. Ezequiel Garay has started to prove himself after faltering at Real Madrid. He is attracting interest from the likes of Bayern Munich. Meanwhile, Fede Fernandez is also on the ascendancy, finally getting more time at Napoli. Fernandez is better in the air, Garay better on the ground, making them a decent pairing with good chemistry.
Backups: Martin Demichelis was a surprise inclusion but could be a welcome sight. A veteran presence, he maybe caught too much flack for a few mistakes at City. In reality he was solid, and he was good for Malaga the previous year as well. However, it's hard to forget Demichelis was a starter in 2010 when the defense was a weak link. Hugo Campagnaro is a hard fighter and can play multiple positions, so he is valuable. Basanta is off most people's radars playing in Mexico, but he's been solid when called upon. Like Rojo, he is a natural central defender playing on the left.
Cut: It's likely Otamendi will go, but it could also be Campagnaro. Like Campagnaro, Otamendi can play in the middle or as a fullback. But he's never really impressed fully - like Demichelis, he was a starter in 2010. Campagnaro has been a consistent fixture of Sabella's teams, giving him the edge. Depth at fullback is a serious issue.
Midfielders
Javier Mascherano (Barcelona), Maxi Rodríguez (Newell's Old Boys), Fernando Gago (Boca Juniors), Ángel di María (Real Madrid), Éver Banega (Newell's Old Boys), José Ernesto Sosa (Atlético Madrid), Lucas Biglia (Lazio), Augusto Fernández (Celta Vigo), Ricardo Álvarez (Internazionale), Enzo Pérez (Benfica)
Starters: Argentina can play either as a 4-3-3 or 4-2-3-1 or 4-4-1-1.  Sabella has even played 3-5-2, but that seems more of a specialist formation. This means the midfield could vary depending on formation. Sabella started out playing with 4 midfielders, but considering how good Aguero is, he began sacrificing a mid for another forward. In any case, Mascherano is a lock. He was the captain of the team before Sabella chose Messi to replace him. A hardworking leader, Mascherano is one of the finest tacklers of his generation. In all likelihood, Gago will be his partner. Gago never really acclimatized himself to Europe and was not entirely convincing for Real Madrid, Roma, or Valencia. But he's been a good cog in the machine for Argentina, and his role - someone who connects defense and attack and adds balance - is very valuable. Hopefully, he's fully fit after a recent injury. Another undisputed ace is Angel Di Maria, who has put in some phenomenal performances for Real Madrid this season. He can still be inconsistent, but on his best day, few can match him. After those 3, the identity of a fourth midfielder, if needed, is a mystery. Perez, Augusto Fernandez, Maxi Rodriguez, and Sosa are the key candidates, but it's also not impossible that they could be cut!
Backups. Sabella has made a habit of placing his faith on young players and having them continuously improve. Fede Fernandez is a good example, another good example is Lucas Biglia. Biglia has locked down a spot as Mascherano's backup and secured a move from Belgium to Lazio. Ever Banega remains an enigma. He is obviously talented but terribly inconsistent. At times, he seemed to be Valencia's best player by miles. This season, Valencia unceremoniously shipped him off back to Argentina. Still, he's a certainty as Gago's backup. Maxi Rodriguez is another player with a spot locked down. Maxi is a veteran presence, his years as a star clearly behind him but still a solid player. Augusto Fernandez has emerged as the favorite of Argentina's most fringe midfield players, having started games lately and done a respectable job at Celta.
Cut: Will it be Jose Sosa, at once considered a pet favorite of Sabella's? The Atletico Madrid man is wholly unspectacular but solid enough. On the other hand, it could be Enzo Perez, a perennial fringe player. Ricky Alvarez is the only player of his type in the squad - a true "trequartista", which used to be an Argentinian tradition. That may help him stay on the team, for variety's sake - not to mention he's a fine young player. But it could be argued he doesn't really fit into the team's strategy. In all likelihood, two midfielders will be cut. Sosa seems the most likely. Alvarez could be the other. Perez and Augusto Fernandez are not entirely safe yet, though.
Forwards
Lionel Messi (Barcelona), Sergio Agüero (Manchester City) Gonzalo Higuaín (Napoli) Ezequiel Lavezzi (Paris Saint-Germain) Rodrigo Palacio (Internazionale)
Starters: Messi is the captain, the best player, the brightest star in the constellation. Brazil could win it without Neymar. Germany could win it without Mesut Ozil. Spain could do it without Andres Iniesta. But Argentina cannot lift the Jules Rimet trophy without Leo. At least, their chances take a spectacular hit. Still, even with Messi channeling Diego Maradona Version 8.6, he will need help. Messi will be playing a different role than normal. In some ways, he will be playing almost as an attacking midfielder. Gonzalo Higuain has been a hell of a partner. He is pretty indispensable. Sitting in front of Messi, his role will be to both to selflessly distract defenders by taking up space and to finish chances when the #10 provides him. It's possible Sergio Aguero could be a substitute if Sabella feels extra cautious, but having that enormous talent on the bench seems a waste. Aguero, a jovial fellow and a good mate of Messi as well, seems to always lift the team. Even as a substitute, he would be the first player to check in always. Let's just hope he is fit...
Backups: Lavezzi can play on either flank and he brings speed and determination to the team. The flipside is imprecision and bad attitude. Still, many, many teams would be glad to have him as a starter, let alone a bench player. His last Copa America, when he was given a sizable role, was forgettable. Rodrigo Palacio is the only name of the bunch that doesn't have star power, but he's still quite good. Let's not forget, he tied Higuain for the 5th-most goals in Serie A.
Cut: No one.
Predicted Lineup
Since taking over, Sabella has flirted with different systems, though the same core players. He has experimented with 3 centerbacks in the past, and it's not unthinkable that he'd try it again. Still, the most likely route is he will continue to alternate between 3 midfielders and 4, depending on how comfortable he is with his defense.
Ultimately, the starting XI is pretty much filled in. It just will come down to if Sabella can really afford to keep Aguero out of the lineup. In the early goings, with mostly safe opponents, it seems logical he will not. But when it comes to the later stages, will he retain confidence? That is the big question.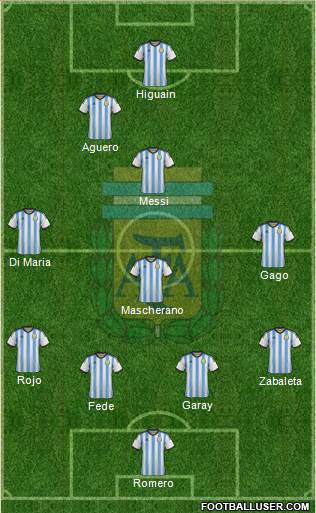 This unorthodox 4-3-3, or possibly 4-4-2, could be used. The interplay between Di Maria, Aguero, and Messi, is the key. We will discuss strategy as Argentina start playing their friendlies. Will Sabella show his hand? Time will tell...