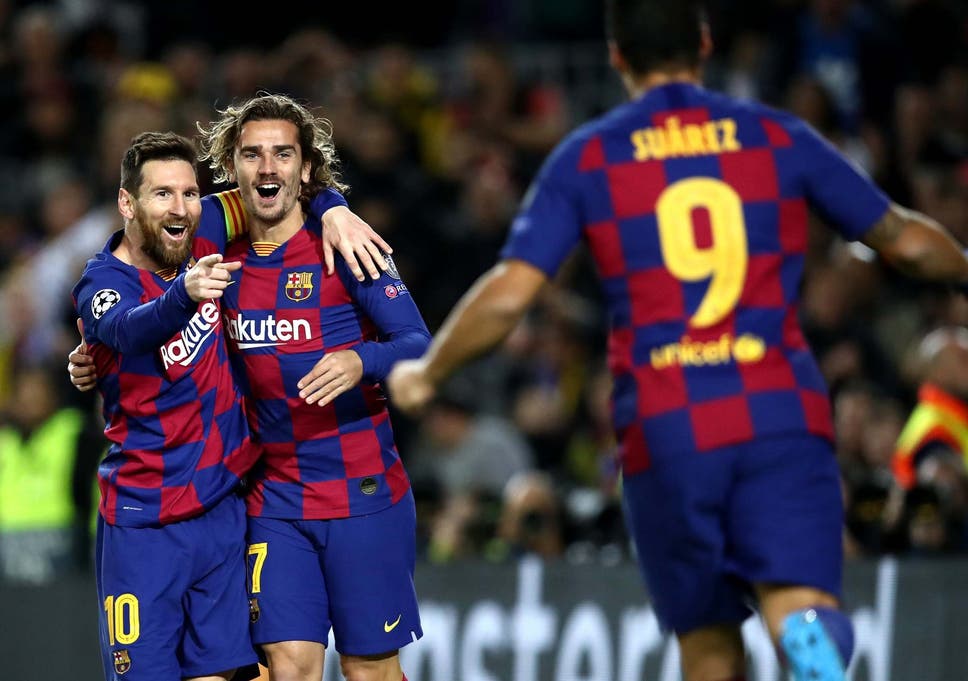 "KEEP YER PANTS ON!":
BARCA REBORN
OR
THE INESCAPABLE VALVERDE APOCALYPSE?"
WHAT THE WIN OVER BVB TELLS US

It was an odd display at the Camp Nou on Wednesday night as both under fire Barcelona and under the pressure Borussia Dortmund battled it out for control of the only UCL Group of Death in 2019.
With Dortmund's manager Lucien Favre unwisely abandoning Jadon Sancho for the first 45 minutes, Barcelona's scattered back line were allowed to grow into the game with each methodical pass from the back (perhaps Rakitic's giveaway is put away in the 1st minute had Sancho started).
Instead of the expected high press from Dortmund, Barca's new look back four were able to pick passes deep into BVB territory with more penetration in possession than if Jenna Jameson guest starred in The Exorcist.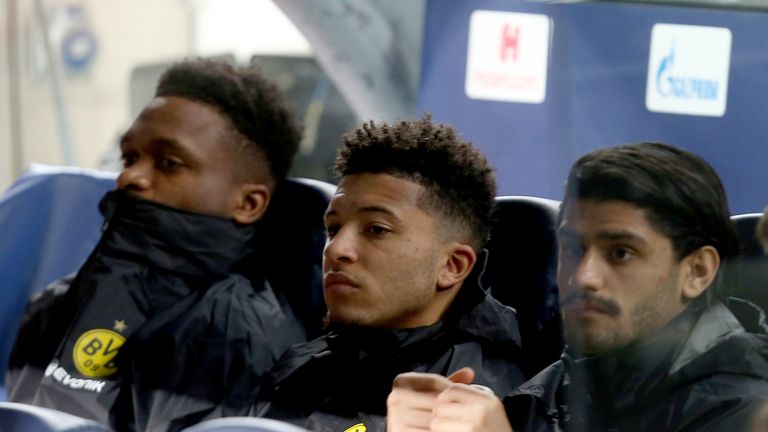 While Dortmund suffered without Sancho and little more than 35% possession for the first 65 minutes, Barca looked slightly more up for the job with Samuel Umtiti quickening play from deep, Sergi Busquets looking fit and agile, Junior Firpo providing a vertical threat down the left and Messi/ Suarez / Griezmann moving with intensity and purpose.
Collectively, Barca weren't stunning, they weren't dominant nor were they unstoppable, but if they can beat Dortmund and Inter while looking unidentifiable, if they can top a UCL Group of Death with Valvede in charge and if they can do all of this with a hated manager, a profits-first board and injured, suspended or disgruntled talents, then who knows what they would be capable of in the hands of a real manager.
MESSI IS GOD

On his 700th appearance for the only club he's ever suited up for, the greatest footballer of all time went HAM on Borussia Dortmund.
Leo was a false offsides call away from his first ever hat trick of assists in the Champions League (setting up both striking partners with scathingly wicked final passes). He created a myriad of opportunities on Roman Burki's goal in the match, feeding Suarez and Griezmann with superb timing and quality. The Argentine bamboozled, juked and dribbled through 11 players from 17 attempted take-ons, he scored a phenomenal goal and hit the mid-section of the top left post from a mind-blowing free kick, all in one night's work from the little genius.
Lionel Messi repeatedly keeps us in awe with his majesterial qualities and anyone who gives a damn about football knows he's the greatest of all time...but...this team is not on his level yet, not even close...
Despite an undefeated Champions League campaign where Barcelona survived the only true Group of Death in the UCL, the Catalans still look lost until Lionel Messi grabs the game by the throat and sinks his teeth in.


WE NEED TO TALK ABOUT DEMBELE....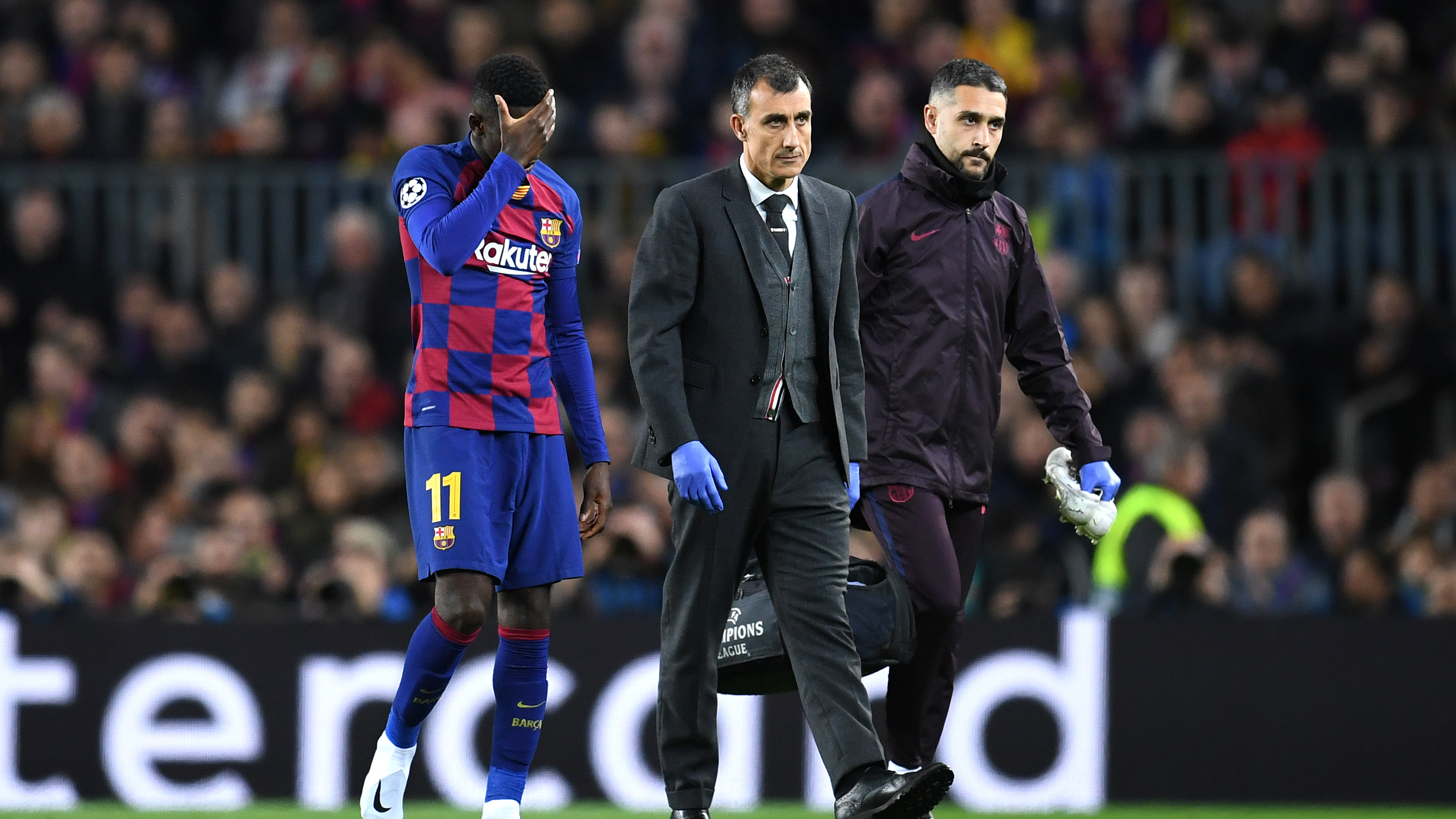 When Ousmane Dembele went down against his former club with his 9th injury since joining Barcelona, we were not only gutted for him...we were angry.
Either these injuries are on Ousmane himself or Ernesto Valverde, but more than likely they're the fault of both the club's management / medical staff and the player's own body reacting to the repeated stressers.
We are still yet to see the high octane, high flying phenom for more than a month at a time in Barcelona colors, the same Frenchman who swept European football by storm in 2016 and 2017, a campaign where Dembele grabbed 6 assists in the Champions League and 21 overall, scoring 10 goals. He was one of the most dangerous players in Europe and was an automatic starter in the French National team at the World Cup, that was until his performances lacked inspiration.
Although Dembele has been largely successful when on the pitch for the club, scoring 14 goals and assisting 9 in a mere 2,500 minutes on the pitch last season and combining with Lionel Messi to devastating effects (12 goals combined with Messi, including 9 last season), the reoccurring injuries point to an inherent issue, either directly on Ousmane or Valverde...perhaps both.
But this isn't just about Dembele, something is going on at Barcelona.
Ever since Valverde was appointed, Barcelona have endured muscle injuries to nearly every single player, including guys like Messi, Suarez and Jordi Alba who had hardly experienced injuries of any kind before Valverde came to be in charge.
Now, everyone from Alba, Messi, Suarez, Dembele himself, Semedo and even iron-men Sergi Roberto and Ivan Rakitic went down with muscle problems.
What the F**&*&8&*&**g is going on?
I'll tell you what's up: our medical staff aren't properly preparing the players for the overwhelming and sudden amount of playing time thrust in their path upon their return, or like Dembele, he returns only to be unselected for a squad entirely, suddenly plays 88 minutes vs Sevilla and scores a wonder goal, gets red carded for absolutely nothing by the worst referee in the game and then, because Valverde refuses to start him in the Champions League, he sits for 13 days of inactivity on the pitch.
Then what happens after that?
Oh...he plays for a measly 21 minutes vs Prague (a match we desperately needed his impetus) and then doesn't play for another 12 days.
That's a starving 119 minutes in 25 days while being available for Dembele....this isn't just on him.
To follow, he played 65 minutes vs Prague, then 45 in a friendly, both 4 days apart and then has to sit for another 10 days due to the international break.
Here's where the injury happens:
After another 10 day absence from the pitch, Valverde throws Ousmane right back into action for two straight starts in 3 days, knowing full well this stop/start schedule is the reason he's getting continually injured Ousmane has never had a chance to fully recover...not once, from any of these injuries.
Mountainous pressure is heaped upon him and his muscles tighten like a rubber band, stretching and stretching until they snap under the dismay of stress. His legs are cramping and his muscles are tightening like a vice due to his inability to relax and be himself on the pitch. Ousmane Dembele used to collect the ball from deep, almost as a right center mid and would proceed to drive through the opposition midfield and defense, the ball glued to his feet and the competitive balance always tilted in his favor...against any defender.
Now he plays in fear that a poor cross, weak shot or misplaced pass will spell the end of his chances at Barca, and thanks to his injury woes and the fact he's missed 55 matches and over 9 months of total football at the Camp Nou means time and patience is running out...and he knows it....his body knows it.
If Dembele was shut down and allowed to gradually return with small cameos that became 45 minute appearances, finally, by mid-February, he could be starting full matches and we could finally see the best young talent (outside of Kylian Mbappe) shine the way he should.
Simply put, against Liverpool, against Manchester City, Real Madrid, Bayern Munich, Juventus or this weekend's Atletico Madrid, we are one-dimensional and easy to hamper and hault without Dembele's wild card pace and unpredictable play giving Messi and Griezmann (or Suarez) space.
We need him to win the Champions League title this season, and without him, Messi, Griezmann and Suarez will find it hard to generate space in the final third.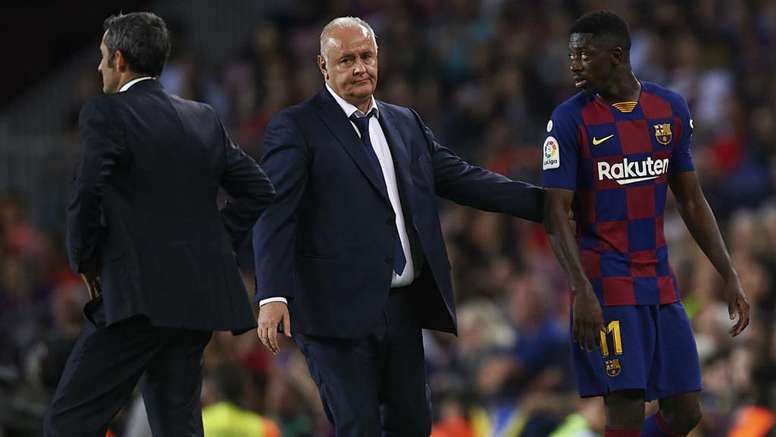 TER STEGEN/ DEFENSE
The Champions League run this season has been one of extreme luck, intense worrying, pulses stopping and heart beats racing as Barcelona won matches and escaped with draws they neither deserved nor were they results their manager earned through preparation or the right lineups and tactics...but nothing and no one else saved our ass more than Marc-Andre Ter Stegen.
Against Inter Milan, we witnessed Barca survive by the skin of their teeth after a pair of late lightning-in-a-bottle goals from Luis Suarez and rampant artistic brilliance from Lionel Messi, but it was Ter Stegen's huge save on a point blank Lautaro Martinez header that kept Barcelona alive; we would've started the 19/20 UCL campaign with a 1-0 loss to Dortmund if Ter Stegen couldn't make four saves in the match, none bigger than his brilliant stop on a Marco Reus penalty in the 2nd half; We've seen Valverde's reluctant crew withstand a humiliating defeat against Prague, both home and away (settling for a victory from an own goal in the Czech Republic and a 0-0 draw at the Camp Nou, Ter Stegen making 8 unbelievable saves in Prague).
But the biggest victory, at home vs Dortmund, was laid on a platter thanks to Lucien Favre's fear of playing Jadon Sancho, Dortmund's current malaise and more than anything, a little magician named Lionel Messi decided he wanted to take the game over.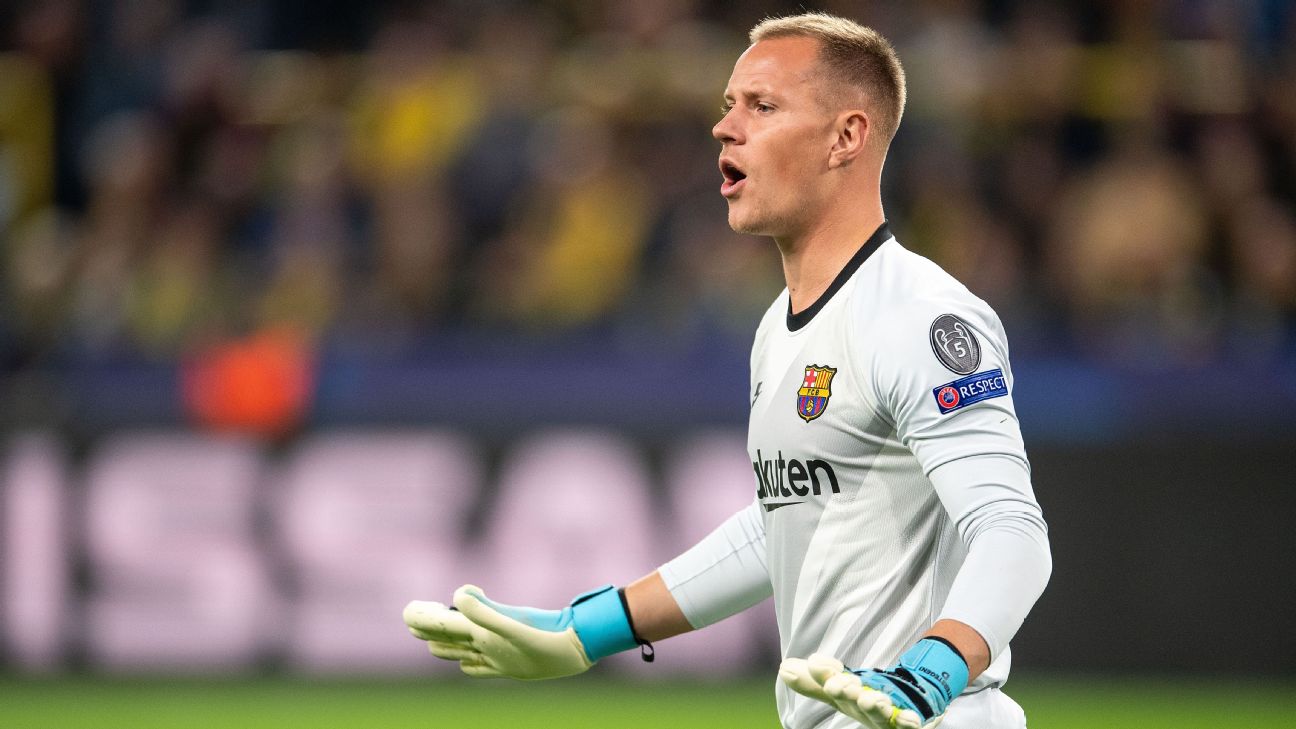 Still, even with a squad that contains Lionel Messi, Luis Suarez, Antoine Griezmann, Samuel Umtiti, Frenkie f**#*#g De Jong, Ousmane Dembele, Sergi Busquets, Arthur, Nelson Semedo, Jordi Alba, Ivan Rakitic and Arturo Vidal on the bench, Riqui Puig and Carles Alena thrown down the well all while Ansu Fati sits on a shelf, without Marc-Andre Ter Stegen's repeated saves, every Barca fan would be stuck with a Europa League catastrophe.
He has done everything possible to make 100% sure the Catalan giants qualify to the knockout stages but with the scattered, injury / suspension-prone defense in front of him, Ter Stegen has had to go it alone in goal on many an occasion, pulling off his own John McClain routine in some of these affairs, increasing his Barcelona legend and demands for him to take over the captaincy in the process.
Barca's defense isn't just ailing due to the absence of Samuel Umtiti or the lack of depth Valverde is willing to use, it's about the mentality, nocturnal habits and the fitness of Gerard Pique, the absolute need for Umtiti's continued return and the overly-aggressive inexperience of Clement Lenglet being exposed.
Having seen nothing but injury since the World Cup, the revival of Umtiti to the Catalan back four (in place of the suspended / undisciplined Gerard Pique) has gradually provided a quick-passing, calming presence that's been missing for far too long. Not only keeping it calm at the back, Umtiti cleared a shot off the line only a minute into the match after a Rakitic howler (had Pique started the match he could've been completely asleep while the ball sped past him).
Although Clement Lenglet possesses abundant world class qualities, he's been run out for far too long in the past year and a half, playing more football for both Barcelona and France than he has in his entire career...and the cracks are appearing, the rust is beginning to darken and the wheels are falling off.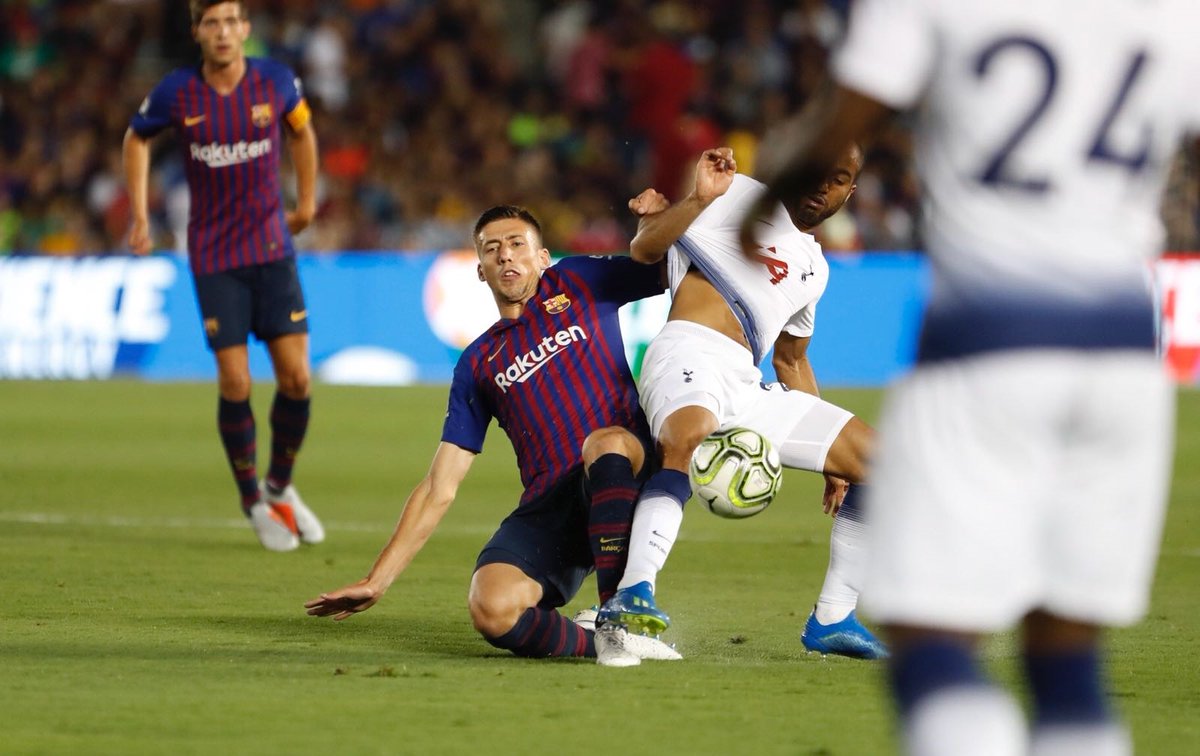 Lenglet's played 5,626 minutes since August 2018, a whopping number compared to the 7,995 minutes Clement clocked in the past 4 years for Sevilla and AS Nancy.
He cuts a doggedly tired, gaunt figure from playing match after match in Euro 2020 qualifying for France as well as being Valverde's only automatic pick in a Barcelona XI since Umtiti's knee injury in September 2018.
The mistakes are beginning to show, the inexperience, the over-aggressive pressing...but still, I love Clement Lenglet as a defender...but Samuel Umtiti must be in the team at all costs until Lenglet can usurp him with improved build-up play.
However, would an Umtiti-Lenglet partnership finally force Gerard Pique to set aside the racket and get his head in the game?
While they weren't perfect, after their performance together against Dortmund, Pique is on notice that his place isn't guaranteed...at least let's hope Valverde sticks to that (he won't).
WHERE WE GO FROM HERE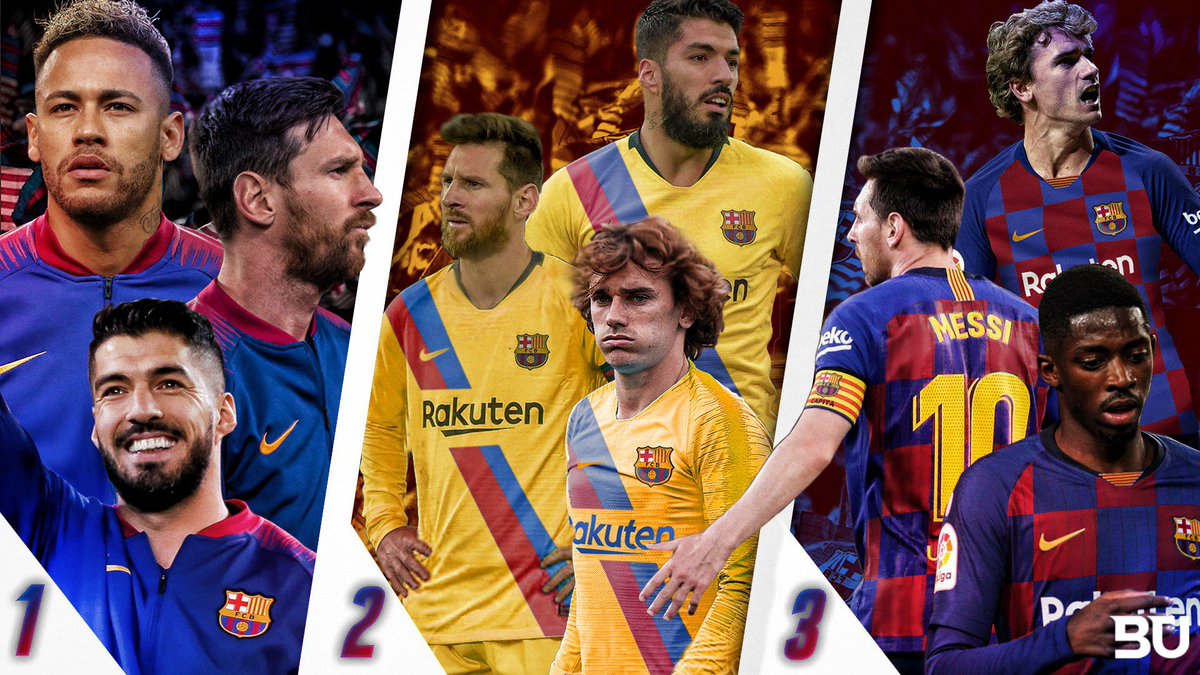 The Future Is Now....

We're not going to complain about being top of a Group of Death that contains Borussia Dortmund, Antonio Conte's Inter and a Slavia Prague club that's deserving of knockout round qualification...this has been one of the hardest groups Barcelona has been drawn in (and we usually get the most difficult).
But it appears sustaining possession and control of the match for 90 minutes is something we cannot do anymore with this current veteran core.
Against Dortmund, Barcelona had nearly 70% possession for the entirety of the first half and for the opening 10 minutes of the second 45. But in the final 25 minutes, Dortmund ground Barca into the ground, working them side to side and ripping control of the game away from us...in our own house.
For the match to end with Dortmund at 53% possession and Barcelona at 46% (Dortmund completing 110 more passes) Valverde's orders to the players had to explicitly be to hand Dortmund possession once we had our 3 goal lead or our players lack the energy, commitment and enthusiasm to hunt the ball and press the opponent into mistakes and poor passes like the Barca of old.
This same "relinquishing" blueprint has happened a lot lately, with no better example than Liverpool out-possessing Barca at the Camp Nou even as they lost 3-0; Inter Milan destroying our front press with silky smooth build-up play from the back and Slavia Prague dictating terms in the Czech Republic: territorially pissing on us with 48% of the possession and holding Barcelona to 81% passing accuracy.
Prague also completed & attempted more passes into our opposition box, all while midfielder Tomas Soucek completed more passes than any other Barca player besides Clement Lenglet in their 2-1 loss (Soucek at 62 completed passes).
In every Champions League match this season, Barcelona has lost possession at least 3 times in our own box, gave away the ball at least 3-5 times just outside the area and too frequently sent passes horizontally to boring areas and back again, back again with no forward runs, interchanging up top or communication in behind. Without our dynamic diagonal long balls to the left and right wings to either fullback, we're having a hell of a time creating space along the opposition penalty area for Messi to shoot from.
Can Pique still hit those passes?
Can Lenglet? Or is this a preview of the boring build-up play that soaks defenders in and allows an aggressive press to flock like a swath of hornets around their nest, thus making the actual possession of the football a weapon in and of itself???
We can't win matches like this...even if we rely on Lionel Messi to score or create 2 or 3 goals before halftime is up, we still cannot come out in the 2nd half and allow teams to get in our face and come on to us with wave after wave of attack.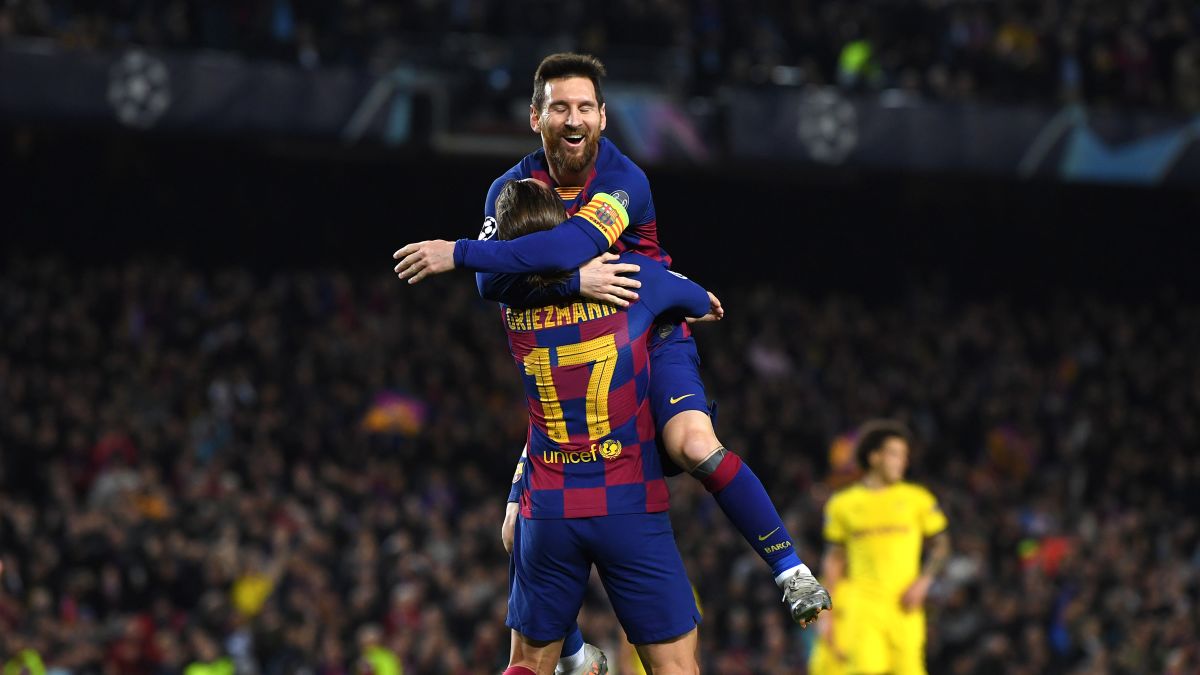 Valverde better not be expecting two 30+ year old forwards (both centrally-placed) to swiftly, destructively counter with ferocity when we have no wingers out wide to help the two South Americans exploit that space in behind.
Since Dembele's down and out, Suarez can't stop scoring (but more importantly is finally moving with purpose) and it's insane to leave someone like Antoine Griezmann on the bench, the way forward is to play with Griezmann angling his runs on the outside shoulder of the right center back once Messi's cut inside on to his left. This run gives Messi a perfect angle for the assist that we saw vs Dortmund, a trademark run we'll be seeing a lot more of. We can get more diabolical too, using Griezmann as a decoy on the left or right who cuts the ball back inside: we have Umtiti or Pique launch diagonal long balls up the left wing to Griezmann on a vertical run. Once he receives the ball and is halted by a defender and a shifting back-line coming his way, vast spaces will open up during that haphazard defensive shift and it's up to the French World Cup winner's brilliant passing to pick out Messi and Suarez in those areas, or maybe even find Alba or Firpo on an over-lapping run on the same wing...and as we see with France and definitely at times here at Barcelona, he can do just that.
It's time for our players to get creative amongst each other and find ways to work around Valverde's idiotic obsession with playing Griezmann on the left.
"On the left you coward!" Valverde barked without looking Griezmann in the eye.
I think we've seen the seeds of that private rebellion or silent mutiny planted before the match vs Dortmund.
Over the last week, we saw images of Messi and Griezmann practicing together with intensity, smiles across each other's faces and once Messi dished his 2nd assist to Griezmann on Wednesday, the pair couldn't hide their hysteria as they celebrated with more whispers / laughs between the two.
The Silent Mutiny is on...in spite of the devastating injury to Ousmane Dembele, the continued absence of one or both of our fullbacks, the limited attention span of Gerard Pique, the relinquishing of possession and the rough form in the first and last 20 minutes of matches, Barcelona are still winning.
Winning isn't going to heal our drama, winning won't get rid of Valverde and Bartomeu, results alone won't force Messi to renew his contract, but it buys our players time...it buys us enough time to hopefully see Valverde depart, Victor Font's campaign gain traction, Ousmane Dembele gain fitness and Griezmann become the maniacal weapon he can be and evolve into the special apprentice to the master that he must be alongside Lionel Messi.
One can always hope.


by
LONN PHILLIPS SULLIVAN
uninterruptedsportsodyssey.blogspot.com
VISCA EL BARCA!!!!!