In one of the other fanposts, I read a comment that we don't have the required quality depth, especially upfront, to compete. Now based on the current players who are registered, this is an accurate statement. But such a situation could be easily avoided. This is our first team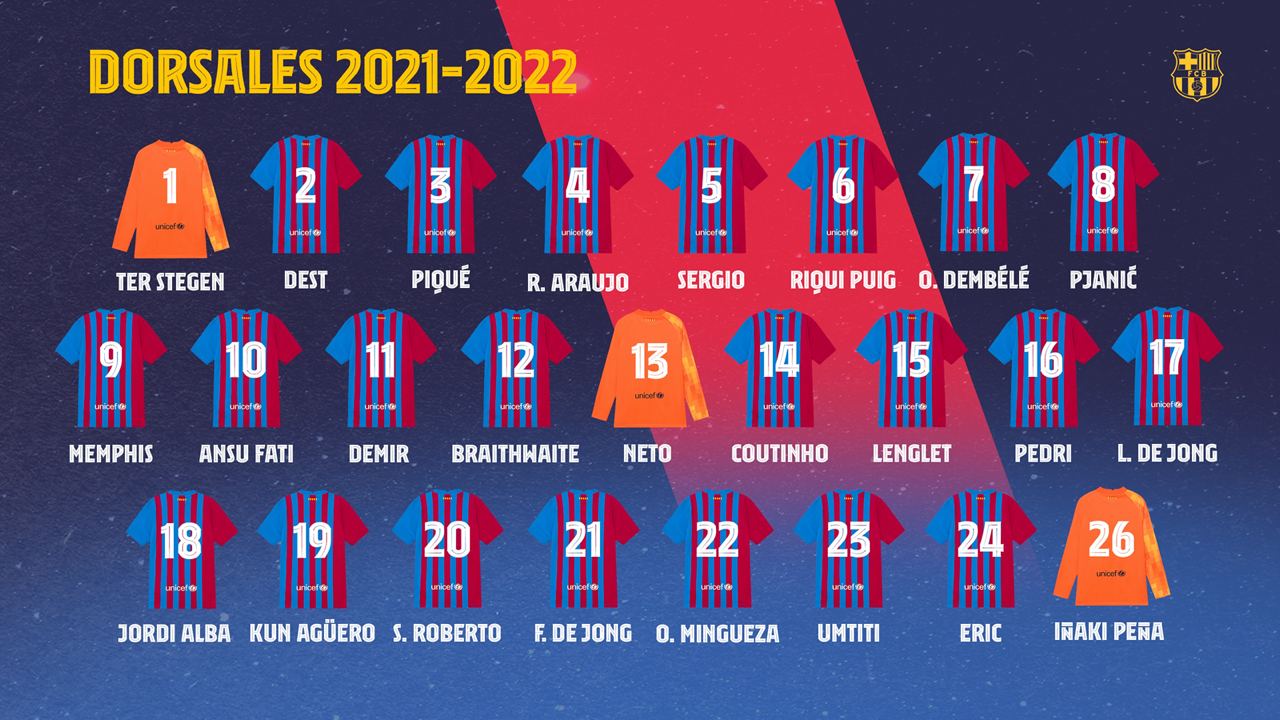 B- team players- Gavi, Nico (midfielders), Balde (Left Back)
I don't know if we can say that we don't have the needed quality.
In defence, Ter Stegen is a top keeper, just that he has been a little inconsistent since the previous season. And if you ask me, that's becuz of the constant changes in coaches and tactical plans, formations. One match you're playing with a 4-3-3, an attacking formation, with an attacking plan, then the next you're playing a defensive 3-5-2, where you're just sitting back. It affects the entire team, Ter Stegen included. He struggles with near post saves, has to work on them. Aerially he is one of the best, but if the teams figure out his struggles, that could become problematic. Neto is a fairly good backup.

Then I believe our defence is a lot better this season than the previous 1-2 season. Mingueza is doing pretty good wherever played, Dest is just a little inconsistent, Alba needs to find his groove (he's a slow starter) Centre Backs are doing good. Pique is doing well with Araujo/ Garcia, Araujo is a beast, Garcia is also inconsistent, but on his day he's pretty good. Lenglet is good enough as a backup. Balde also has the quality to step up whenever needed.

Midfield there is so much quality, I don't understand how the fixture congestion can be a problem for us especially in the midfield. We have
Busquets
Frenkie
Puig
Pedri
Nico
Gavi
We can play different midfields in every alternate match and we'll still have a quality midfield. Nico can be rotated with Buqsuets, he has shown he has the quality. Puig/ Gavi and Pedri can be rotated too, they are all young energetic players. Like he just suffered a relapse becuz Koeman just couldn't rest him. Playing him when he's fit is still okay, but he comes off an injury and is thrown straight into the starting lineup, then Nico, Gavi were doing so good. Frenkie barely ever needs rest, but whenever he does, Gavi or Puig have enough quality to step up.
Attack, yes, does not have quality depth. However, his could have been avoided very easily. Rey had to be sold to raise finances, but Collado not being registered with either teams, Trincao being loaned out, it was all Koeman's decision. Right now we're just left with

Depay

Demir

Fati

Aguero

Braithwaite

Dembele

Coutinho

Luuk.

This was never going to be good enough. We have 8 attackers when fully fit, out of these 2 are injury prone (Dembouz, Kun), 2 are average at best (Luuk, Braithwaite), 2 were returning from long injuries (Ansu, Coutinho), 1 is an 18 year old kid in his first season with Barca. We're just left with Depay. So what was the need to loan out Trincao, or not register Collado (we even had two spots left). And he really replaced them with a Sevilla flop. Was Trincao worse than Luuk? Or was Collado worse than Luuk? Koeman dug his own grave by discarding Trincao and Collado, so I don't understand how that can be a reason for him to not perform.
I didn't add Roberto and Umtiti as according to me they just shouldn't play. Umtiti no longer has that quality, and Roberto was here only becuz he was versatile. Now he can barely perform well as a midifielder, let alone RB or LB
In summary, not having quality depth was Koeman's choice, it was not forced upon him. Luuk was not forced upon him, not was keeping Braithwaite but loaning out Trincao. So if he made all these decisions on his own, he should have guaranteed the results.
What the next manager needs to do is register Collado, and if there is this clause then terminate Luuk's contract ASAP, I think we can only do it in windows. But even if there is no clause regarding this, just keep him like Roberto and Umtiti, i.e., discarded player. Also if possible recall Trincao though I don't think there is this clause becuz there was a fee after matches played. But registering Collado is very important, and could be a huge boost to our depth.
As for Koeman, most of you might remember I was always Koeman in until the end of previous season. Becuz at least he was playing good football, and given he got a very short pre- season, our inability to give him the required players, it was fair to give him a shot and see if he could do better. This season, he got a pre season, the players he wanted and he started the season well. But from the 2nd league match onwards, it went downhill. No attractive football, no tactics, no convincing results, no game plan. And I don't care what results he gets in the next matches, he has to go before his reputation is further tarnished. And so as to not mess with the players' morale, we need to get a long term coach, not an interim coach. And no Pirlo is not an option, I'd have Lampard over him. Xavi for me is clear option, but Martinez and Conte are alternatives. But that's a story for another day.